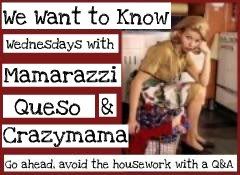 Hosted by:
Impulsive Addict, Janette, Mamarazzi and Seriously Shawn
1} Everyone seems to have a quirky family situation-- what is something unique about your family dynamic?
Hmm, not sure if I totally understand what you're looking for. I think my family is pretty normal as far as families go.
2} What is the most stressful aspect to blogging (aside from the network going down)?
I have a couple.
First, is coming up with things to blog about! Take a look. I haven't blogged in over two weeks. That (and the fact that I just wasn't feeling like it) is the main reason.
Second, is keeping up with all the blogs I follow. There are lot of 'em and I don't always feel like I have time for them. Many of the ones I follow I rarely comment on :( I skim through them in Google reader.
Along with that goes reciprocating on the blogs of people who visit and comment on mine. Sometimes I'll post a blog and then something comes up at home and I feel bad if I can't answer or visit them right away.
3} We all end up on a blog at some point in our day, but name your top 3 favorite websites you flock to daily (non blog)!
Facebook....doesn't everybody flock there?
Twitter....yes I usually check on the web because I'm still behind the times and don't have a smart phone yet. I've been wanting to get my hands on an iPhone. Soon. I hope. My MIL has one and it's killing me!!
Yahoo and Gmail..... I'm always checking my email
4} What's your sign?
Believe in it or not, does any part ring true to you?
Scorpio, November 11th
Scorpio is the most intensive, obsessive and turbulent sign in the zodiac....................Yeah, I'd definitely have to agree with that! Though if I continue reading not everything holds true. I'd say it's about half and half.
5} IceCream!! ICECREAM!! We all scream for icecream! Name your favorite flavor/brand! (Its hot here, can't help it)
My favorite is really not ice cream, it's frozen custard from Culver's
Carmel Cashew! Yummy. It's got my sweet and my salty!
And going with BONUS question B....
B} Suggest a question you want to see in future WWTKs!
Have you ever met a celebrity? If so, who, when, where, how? If not, who would you like to meet and why?