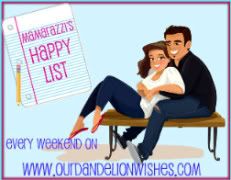 I've been lurking around the HAPPY list for some time now. I think it's about time I start trying to participate. I tend to gravitate toward the negative side of everything which causes me to be not happy too often. I think I need to consciously start finding the positive and be more HAPPY.
I'm HAPPY because:
Last Sunday we dragged the kids to a flea market. I know, we are such awful parents. My oldest daughter had made Wind Symphony at school and needs to upgrade to a wooden clarinet. We ended up finding a nice one for $40!!!!
We'll have to put in another $225 to have it oiled, re-corked and padded, but I'm OK with that. We'd have at least that much in to rent one for just one year. And the guy at the music store said once it's in playing condition they could sell it for around $500.
I think it was a great unexpected find! YAY!
I'm HAPPY because:
My husband and I celebrated our 20th wedding anniversary this past week! We didn't do much, just got a hotel in Green Bay and did some sight seeing and wandering around Door County. But we had fun getting away for a couple nights and being together.
I had originally wanted to take a big trip but we just couldn't afford it, so as my hubby kept telling me.......It doesn't matter what we do as long as we are together!
Say it with me, "Awww"!