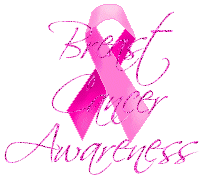 October is breast cancer awareness month. Don't forget to take care of the ladies!
I have an appointment tomorrow for a mammogram. Yeah, I know I'm not even 40 yet. But pretty close. Anyway, my doctor has a baseline screening done at 35 for his patients. When I went for that one I was in there forever! They kept having to re-check the right one at different angles. They eventually pulled me into another room to have an ultrasound. Turns out I have a spot where the tissue is a little more dense than the rest so they wanted to make sure it wasn't anything. So because of that I had to go back every 6 months for the next couple years and now I'm at yearly to keep an eye on it.
It's not really that bad. A little uncomfortable for a minute or two.... while you stand with your feet facing one direction but your torso facing another, the corner of the machine poking your armpit, the cold medal against your skin and then the squeezing! But it's over before you know it.
Take a second to click and fund free mammograms at the Breast Cancer Site: