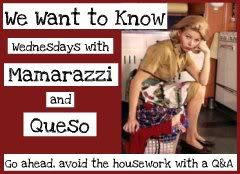 I'm taking part in We Want to Know Wednesday this week, your hosts are Mamarazzi and Queso.
1} If you could be on any game show what would it be?
I totally want to take a ride in the Cash Cab!! Do you hear me Ben Bailey?? I don't care how many people say it's set up.
2} If you could choose to stay any certain age forever, what age would it be?
Tough question but I probably say 41, the age I am now.
3} What were you doing 30 minutes ago?
I don't remember. lol Maybe I should change my answer on number 2 to an age before I started losing my memory.
4} What would I find in your fridge right now?
Rather than bore you with a list, here's a few photos of the insides of my fridge. Nothing too exciting......no science experiments going on right now! I just realized I totally cut off the top shelf of the main part of the fridge. All you're missing is some yogurt and butter.
5} If you were a piece of furniture what would you be? why?
A nice soft comfy couch. Though I'm not so sure I'd want people sitting on me all day!