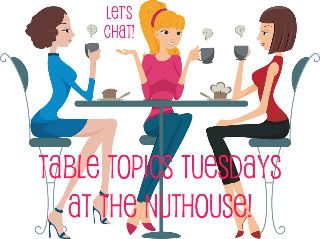 Today's Table Topic's Tuesday on
Shannon's blog
is:
What is the best way to spend a rainy day?
I usually don't mind a rainy day, unless it gets out of hand and rains for a week straight! I can also do without any lightning and thunder!
My daughter will tell you the best thing to do on a rainy day is go out and look for worms. I can live without that too. But I don't mind watching it rain. Especially if it's a slow, calm rain. It can be relaxing to sit out on the porch on a warm night and watch and listen to the sounds of the rain.
Otherwise, I just like to sleep in on a rainy day. Lounge on the couch reading a book or watching TV. Maybe play a game with the kids or do a puzzle. I always seem to associate doing puzzles with rainy, dreary weather. I remember doing puzzles with my mom and brother on dreary days when we first moved to Wisconsin as a preteen and we didn't know anyone yet.
What about you? What do you like to do on a rainy day?