As you may or may not know, I quit my part time job back at the beginning of June. I was not happy there and frustrated and decided I wanted time at home with the kids over the summer because really they're not gonna be around all that much longer. And also because I wanted to focus more on my photography.
Well, I accomplished the spending time with the kids part. The photography....not so much. Just check out my photo blog. I haven't posted there in over a month.
But recently I came across Zazzle again. It's on online marketplace where people can set up their own storefront and create customizable products with their own designs or photos. I had visited there in the past and considered setting up an online store but just never did. But this time I decided it was time to go for it. This is why I decided to leave my job, right?
I've considered doing portraits (I think high school seniors would be fun) and people have asked me about that. And while I may dabble in it here and there and do stuff for family and friends I don't think that is where I'm at right now. I love taking photos of my family and people in general. But put me in the "official" portrait situation and I get very nervous and uncomfortable. I have a hard time in social situations as it is, just talking to people and feeling comfortable. So having to make people feel comfortable in front of the camera and getting them to relax so their photos look natural is a hard thing for me.
So while I will try to continue to work on that, for now I've decided to focus on other subjects and build an online store. You can check out my store specifically by visiting the link below. There are only a couple things in there right now and I still want to play around with the look of the store and store description, but let me know what you think. I'd appreciate it.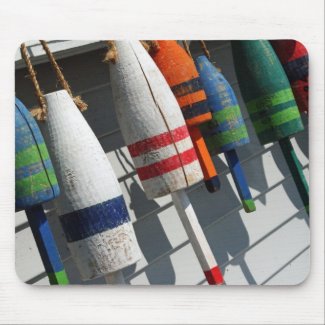 Fishing Bouy Mousepad
by
lynnsphotos
View a different
mousemat
on zazzle
I still have my gallery at SmugMug and will continue to add photos there as well. So hopefully between the two I can get something going.
Also, if there's anyone out there willing to let me put a link to my store on their site let me know. I'd be willing to do the same for you!