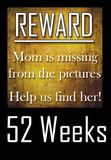 We are out of town right now but I really wanted to get at least this post done! I am determined to complete all 52 weeks! Sometimes I feel like these are the only posts I'm doing lately though, I've been so busy! You all are gonna get sick of just seeing photos of me :) I also feel so bad about not visiting other blogs regularly. I have so many that I follow that I haven't been able to keep up with lately but I'll be back. Eventually.
This photo of us goofing around was taken yesterday at one of the many lighthouses we've been visiting the past couple days. Tiger was pretending like she didn't want her photo taken. Nice try. She is the biggest ham when it comes to me taking her picture!
It looks like it was a nice day doesn't it? Well, it was but it was FREEZING and WINDY out there on the breakwater!
Be sure to visit Carin at Forever in Blue Jeans
to join in and to see all the other moms getting in the photos!