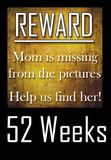 Running a bit behind this week because I had to work today. It's been nice the past couple days so we spent some time outside yesterday grilling brats and of course taking pictures. I had Tiger take this one of me and my mom.
Then my mom took some of me and the girls. I love the look on Tiger's face here. She's trying to figure out how to look at the camera without turning her head.
Head on over to Forever in Blue Jeans
to see more mom pics or to join in the challenge!